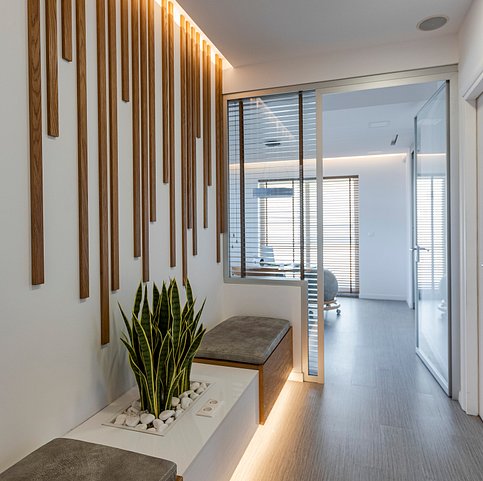 Contemporary forms and natural materials working together to create a unique and innovative health clinic. Focusing on an efficient use of space, effortless circulation and a fluent private gradient, this design allows patients to feel part of the process of cellular revitalization.
With an emphasis on natural materials we have celebrated natural timber finishes on walls, furniture and the main entrance installation guiding the visitor to thereception area. Natural moss which reacts to the waiting room's humidity is used on the walls. Plants are used to give a playful character to the otherwise minimal interior and a wallpaper of condensed herbs hangs in the main examination room giving gentle scents of lavender blooms.
Transparency was a key element when designing the clinic using large glass walls to allow visual connections through all the examination rooms and the main lab whilst giving the waiting room glimpses of the parallel journey through to the more private rooms of the space.